Our new board member, Mrs. Megan Harvey was sworn into office today. Mrs. Harvey is pictured with Mr. David Warvel.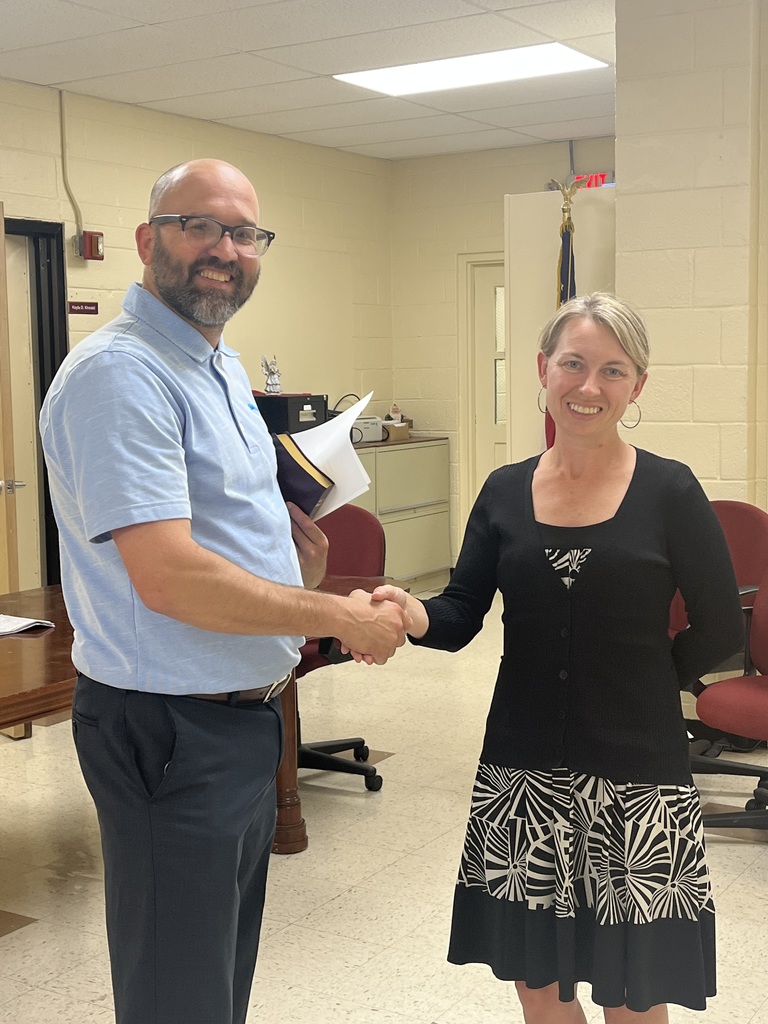 There will be no summer school on Monday June 20, 2022 in observance of West Virginia Day.
Due to a potential road closure, summer school programs at Summers County High School will be relocated to Hinton Area Elementary School beginning tomorrow June 14.
We wish our students a fun, relaxing, and safe summer vacation! See you in August!
Attached as the bus schedules for our summer programs.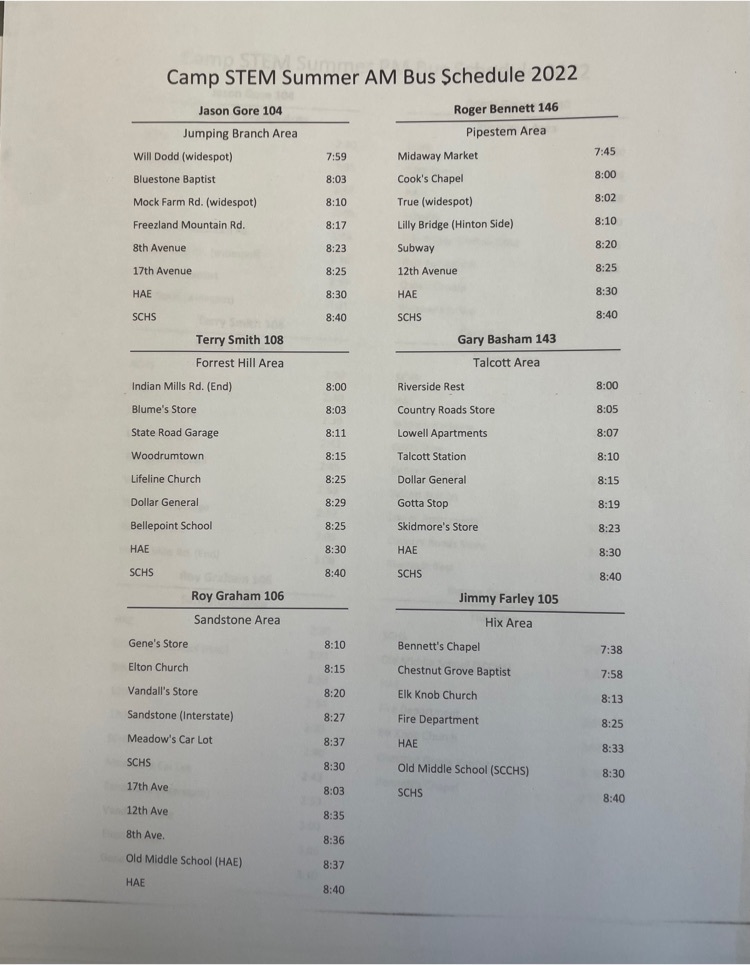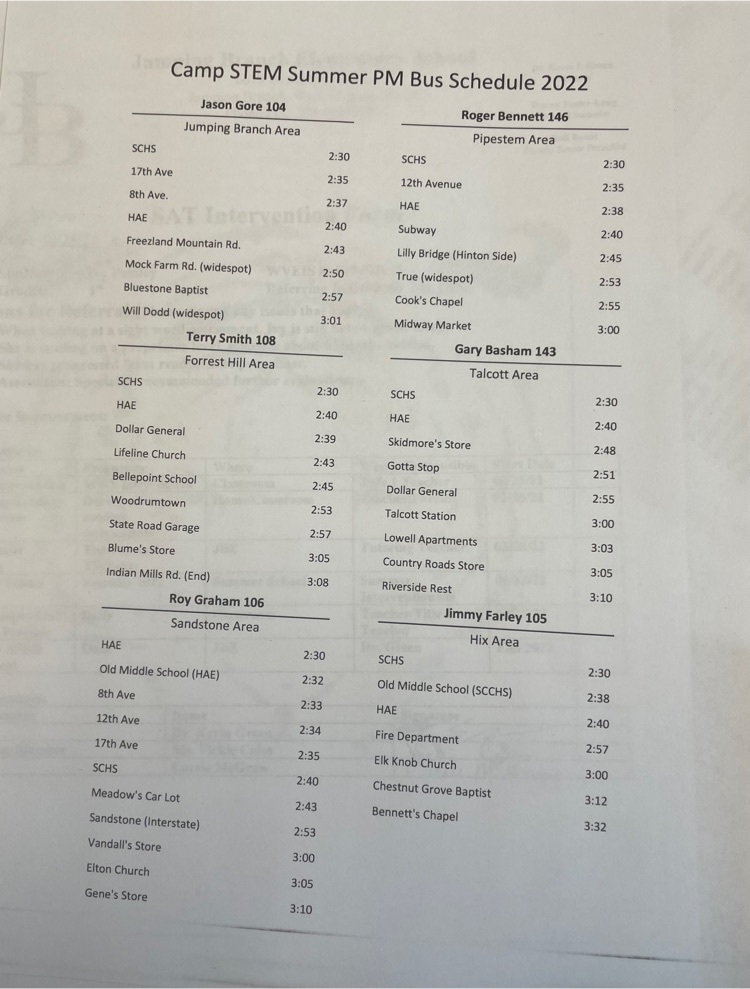 Summers County Schools sends congratulations and best wishes to all graduates and their families who will be celebrating at tonight's ceremonies at Garten Stadium!
Congratulations to Amanda Wheeler, Kindergarten Teacher at Talcott Elementary for being selected as the 2022 Lilly Wilson-Summers County Schools Teacher of the Year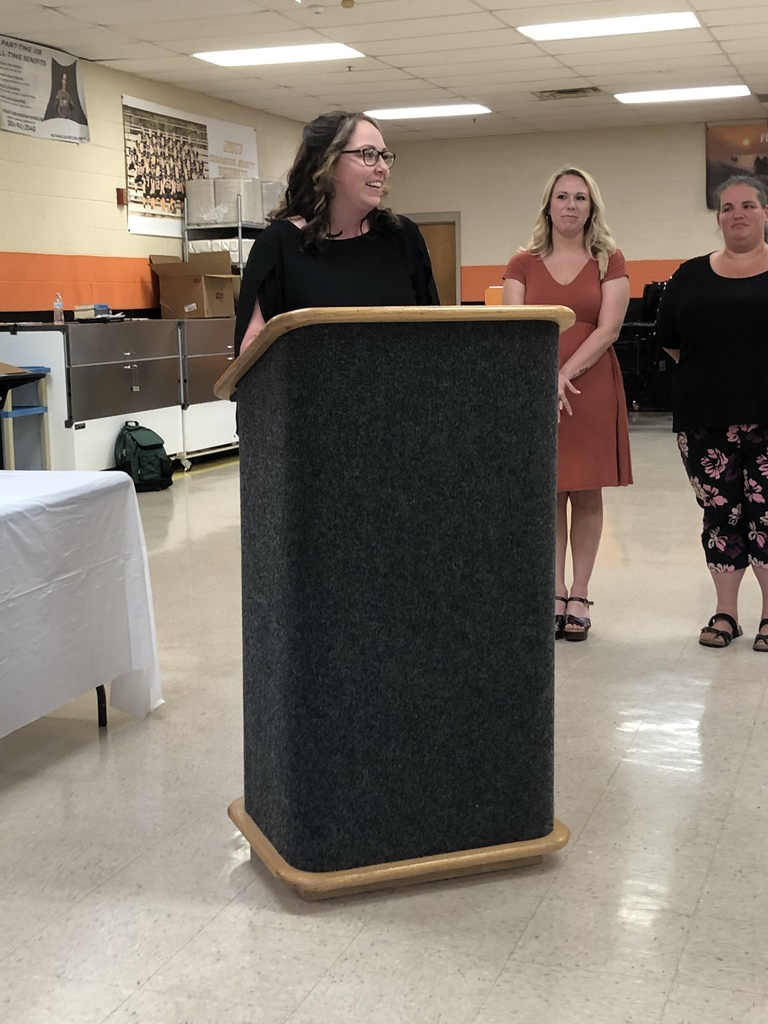 Congratulations to Bus Operator, Bo Donahoe for being selected as the R.T. Rogers-Summers County Schools Service Person of the Year. Bo has perfect attendance for 27 years of service in Summers County Schools.
PTO meeting tonight at 6:00pm.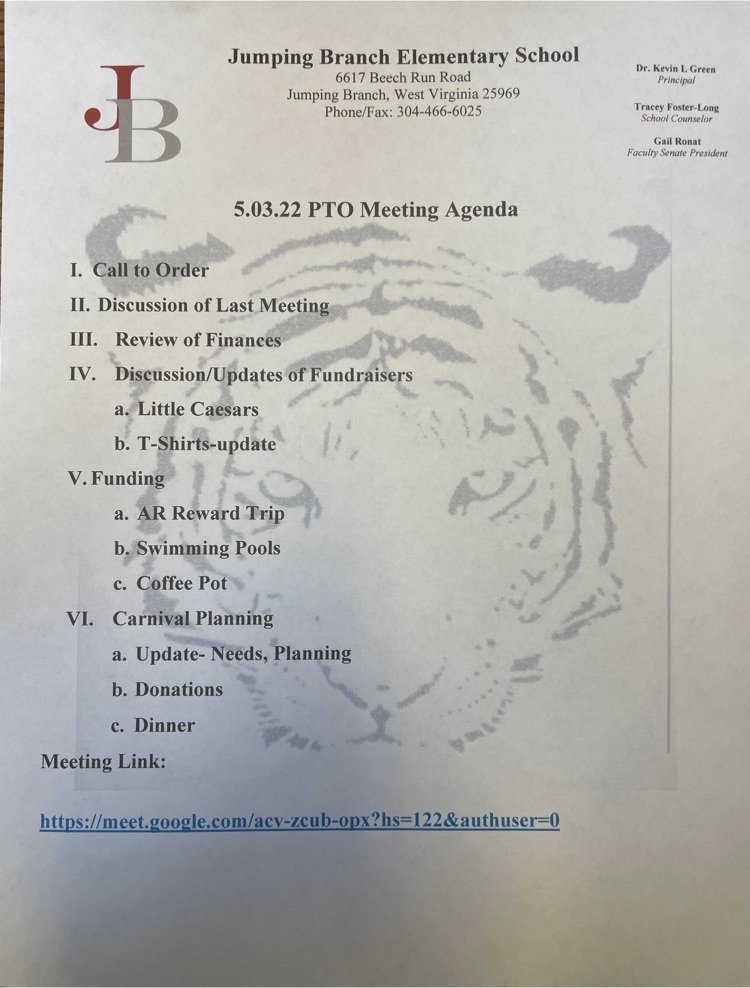 May Newsletter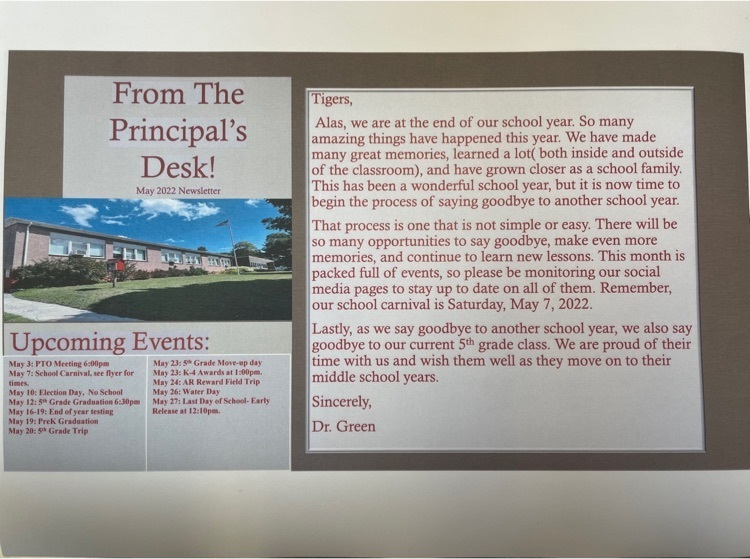 PTO meeting tomorrow at 6:00 pm.
Today, the First Lady of WV, Cathy Justice and Smokey the Bear, came to JBE to plant a Black Gum Tree and celebrate Arbor Day! We are so grateful for for this visit!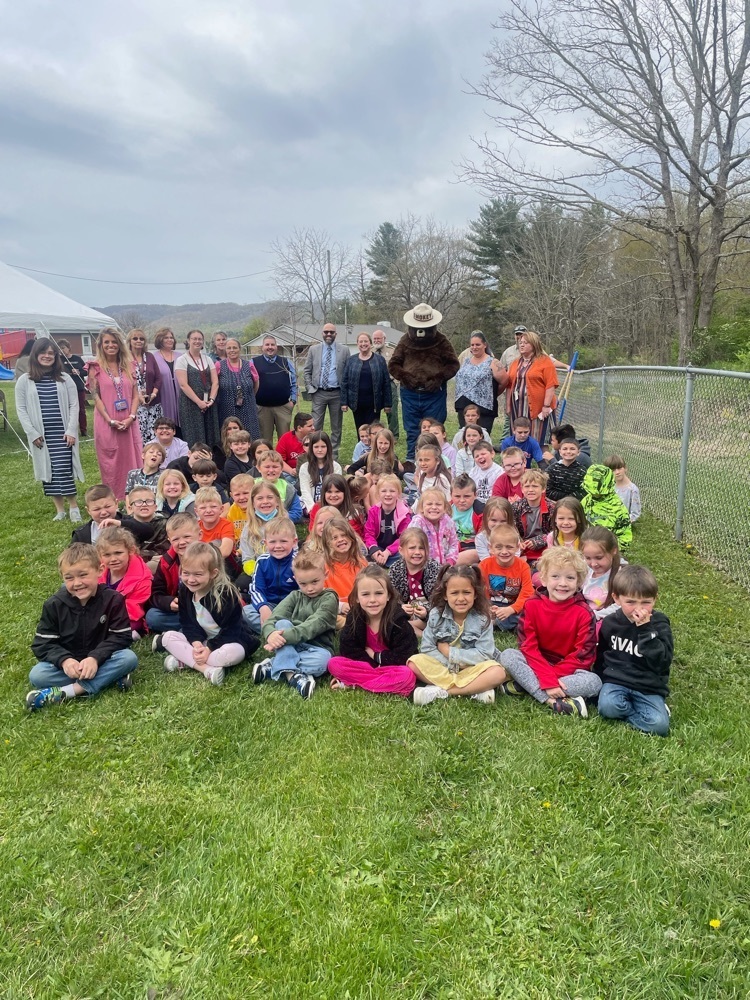 We wish our students, parents, and staff a fun and restful spring break! We look forward to seeing you on Monday April 25!
Employment opportunities are available in the Summers County Schools Transportation Department. For information call (304) 466-6017.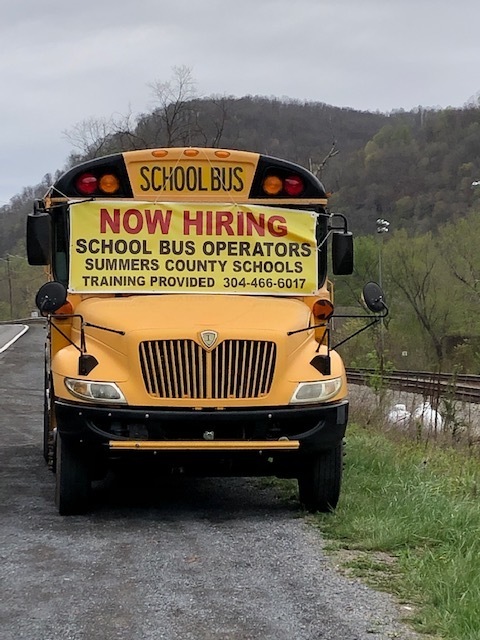 Announcement! End of Year Awards Specific details will be forthcoming. 1. PreK Awards/Promotion: May 19 at 9:00am 2. K-4 Awards: May 23 at 1:00pm 3. 5th Grade Graduation: May 12 at 6:30pm
PTO Update! Our meeting for this evening has been pushed back to May 3 at 6pm.
Upstate! Egg hunt is still on for this evening, even if we have inclement weather.
Reminders! 1. If you want to sign up for paint night, this Friday, please call the school tomorrow or Friday. Cost is $25 2. PTO sponsored Easter Egg hunt is Friday from 6-8pm. Cost is $5. 3. We will be selling popcorn and water tomorrow. Each item is $1.
April Newsletter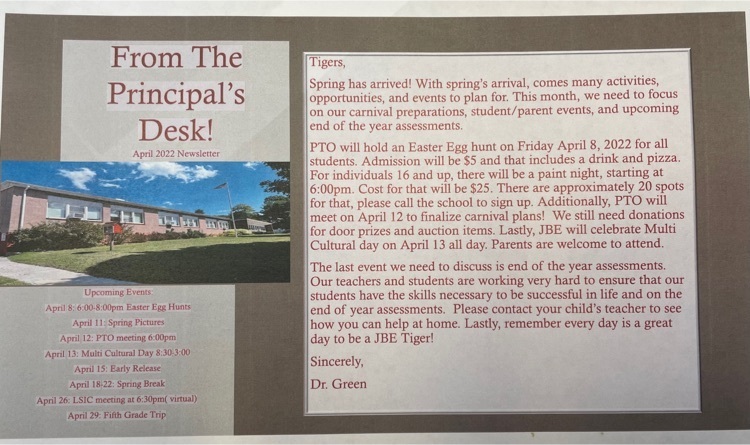 Congratulations to Teacher of the Year Candidates: Amanda Wheeler, Haley Lane, Jessica Cook, Ellen Holt, Jessica Collins, and Melanie Miklos.